Top Trendy Dog Names – Perfect Name Ideas for Your Pup
Published:
Last updated:
by Jessi Larson

My Dog's Name has been around for three years now, and we've seen some interesting trends in dog names. For the most part, when a dog name hits the top 10, it sticks around for a while. Every now and then, however, a name will come out of nowhere and quickly gain lots of fans.
So what's trending right now? As they say in Zoolander, these names are "so hot right now."
Female Trendy Dog Names
Bella
This name rose in popularity after the Twilight Saga became a hit and just keeps climbing the charts. It is now the most popular female dog name. Sweet and soft yet substantial, it's easy to understand why this is a hit with dogs big and small.
Daisy
Cute, flowery and fun, Daisy works for dogs of all sizes and is a lovely choice.
Elsa
Something tells us this trendy name has something to do with a little movie from Disney. Was it called Frozen? Oh yeah, that one. Several years later, this name is still in vogue.
Bailey
This popular name sounds feminine and athletic all in one. A top 10 name, Bailey is just a tad more popular with larger breeds.
Zoey
Cute, sassy and spunky, Zoey cracked the top 10 for the first time ever. Definitely a trendy dog name!
Coco
The thing we love most about the name Coco is that it could represent so many things. A brown-colored dog. A fancy-looking dog ala Coco Channel. Or any dog with spunk and attitude.
Roxy
Like Coco, this name is sassy and spirited. It's also a new addition to the top 10. Trendy? Check. Cool? Check, check.
Sophie
It's no secret that classic names are making a comeback for children, and the trend has shifted over to dogs now, too. As a result, a name like Sophie has been a popular choice for the past few years now.
Lucy
Here's an example of another classic name making a comeback. This trendy dog name is simple and sweet and will stand the test of time.
Abby/Abigail
This name is the top 10 for both children and pets. Soft and sweet, you can't go wrong with either Abigail or Abby.
Lola
Once reserved for fem fatales, the name Lola is now making its mainstream debut. With a disarming, soulful quality, Lola is a fun, trendy dog name.
Luna
In mythology, Luna is the name of a moon goddess. If you're looking for a mysterious, unique-sounding name, this is a great choice.
Aurora
On the rise, Aurora is a gorgeous name evoking thoughts of the Northern Lights (Aurora Borealis) or the princess from Sleeping Beauty. The name can be shortened to Rory, another cool moniker.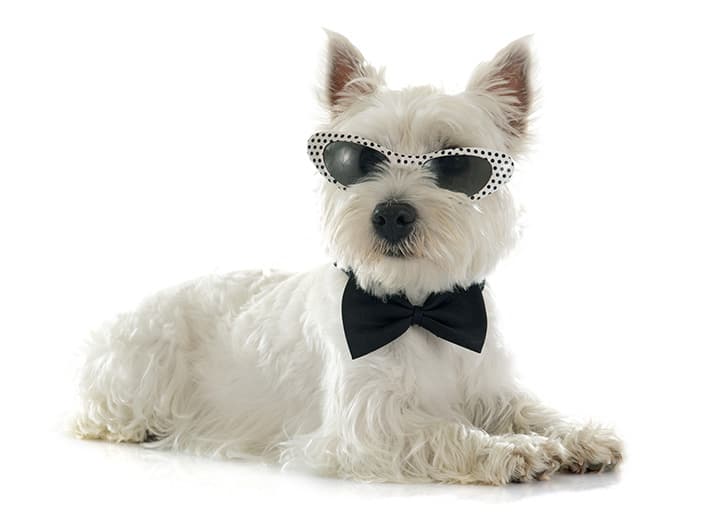 Male Trendy Dog Names
Max
Simple and to the point, Max is a trendy name with dogs big and small.
Rocky
The name Rocky is making a comeback in a major way. (No pun intended?) Perhaps it has to do with the release of Creed, a spin-off/sequel to the Rocky films.
Buddy
Some names just don't go out of style, and Buddy is one of them. This name seems to be eternally trendy.
Charlie
We love this classic name and are thrilled that it's making a comeback.
Jack
Like Max, the name Jack is a one-syllable wonder. You've got to love the punch this name brings.
Toby
OK, we're a big biased here. We named our dog Toby back in 2013 before the name became uber trendy. Now there are multiple Tobys at his daycare. (The daycare ladies call our pup "Big Toby" as a differentiator.)
Cooper
Before the 1980s, Cooper wasn't even in the top 1,000 names for baby boys. Now it is #77. The name's popularity has risen even more quickly with dogs: today it's in the top 10.
Duke
Regal, dignified and aristocratic, Duke is particularly trendy with large dogs.
Tucker
On the rise, Tucker is a plucky, spirited name that is picking up steam.
Sawyer
The name has a relaxed, friendly feel and is extremely trendy right now.
Finn
Packed with charm, energy and a little bit of mischief, Finn might just be the perfect name for a dog.
Chewie
Chewie is considered a trendy dog name now, right around the time of the Star Wars reboot. Coincidence? We think not.
So there you have it, a big 'ol list of trendy dog names. What do you think? Do you know any dogs by these names? What's your fave?
Looking for more names? Check out our top dog names list or do a search to find the perfect dog name for you!
Learn How to Teach Your Dog its Name
Check out more articles about: