Rapper Dog Names – Inspired by Hip Hop Culture
Published:
Last updated:
by Kyle J. Larson
If you're a hip-hop fan these hip-hop and rapper dog names will be a perfect source of ideas to get started in naming your pup! Hip-hop culture has had a huge impact on the world from the old school origins in NYC to the latest kid coming up from YouTube or Soundcloud.
This influence stretches across culture including music, movies, TV, fashion and even language.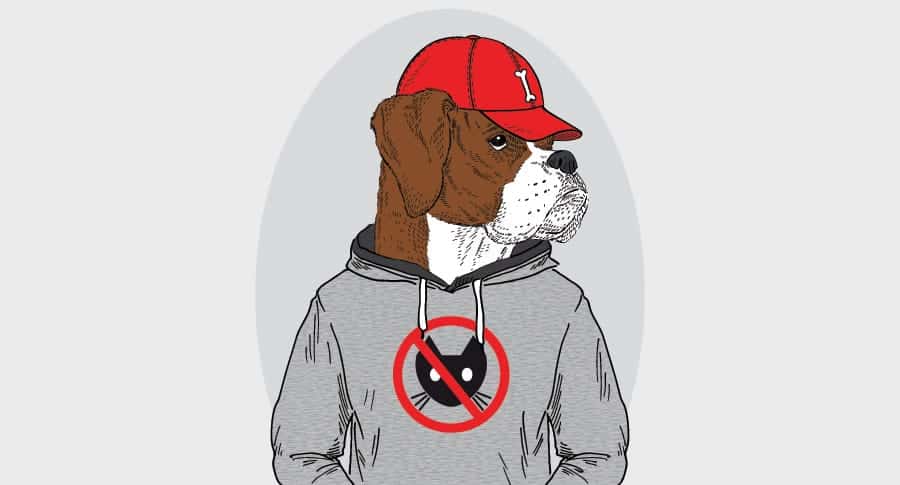 When picking a dog name always make sure to pick out something that you want to shout across the neighborhood and will stand the test of time (you might be using this name for 10+ years).
Check out this great hip-hop inspired dog names!
Male Rapper Dog Names
Here are some awesome hip-hop names for male dogs. Taken from rappers ranging from the originators to current day emcees. These are the best rapper dog names for your male furry friend.
Andre – Andre 3000 from the group Outkast
Apollo – Apollo Brown, producer from Detroit
Baby – Lil' Baby
Beastie – The Beastie Boys
Biggie – Notorious BIG, classic NYC rapper
Bow Wow – aka Lil Bow Wow
Bronson – Action Bronson, NYC emcee
Busta – Busta Rhymes
CeeLo – CeeLo Green of the Goodie Mob
Chance – Chance the Rapper, rapper from Chicago
Cole – J. Cole
Cudi – Kid Cudi
Cypress – Cypress Hill, classic cannabis culture warriors from Cali
Diddy – Puff Daddy / P. Diddy, famous producer & rapper from New York
Drake – Canadian rapper and singer
Dre – Dr. Dre, producer from NWA and associated with acts like Snoop, Eminem, & Kendrick Lamar
Eazy – Eazy-E, of NWA fame
Fiddy – 50 Cent
Flash – Grandmaster Flash, pioneer DJ
Freddy – Freddie Gibbs, rapper from Gary, IN
Gambino – Childish Gambino
Ghost – Ghostface Killah, member of Wu-Tang Clan
Gibbs – Freddie Gibbs, rapper from Gary, IN
Glover – Donald Glover aka Childish Gambino
Griff – Professor Griff of Public Enemy
Gucci – Gucci Mane
Guru – Member of Gang Starr
Hammer – MC Hammer
Herc – DJ Kool Herc a founder of hip hop
Jeezy – Young Jeezy
Juice – Juice WRLD
Kane – Big Daddy Kane, rapper & member of the Juice Crew
Kanye – Kanye West
Kendrick – Kendrick Lamar
Khaled – DJ Khaled, producer
Kodak – Kodak Black
Logic
Luda – Ludacris
Mac – Mac Miller
Malone – Post Malone
Nas – Classic NYC rapper
Prez – Dead-Prez, hip hop duo with militant social justice focus
Quavo – rapper from Migos
Quest – A Tribe Called Quest
Quik – DJ Quik
Rakim – Rapper, part of duo Eric B & Rakim, one of the most influential MCs of all time
Rocky – A$AP Rocky
Royce – Royce Da 5'9″, emcee from Detroit, member of Slaughterhouse
Russell – Russell Simmons, entrepreneur & record producer. Founder of Def Jam.
Savage – 21 Savage
Slick – Slick Rick, eye-patched British-American rapper
Smalls – Notorious BIG aka Biggie Smalls
Snoop – Snoop Dogg, classic Cali rapper
Tupac (Pac) – West Coast classic gangsta emcee
Uzi – Lil' Uzi Vert
Vince – Vince Staples
Wayne – Lil' Wayne
West – Kanye West
Wiz – Wiz Khalifa
Yelawolf – Alabama rapper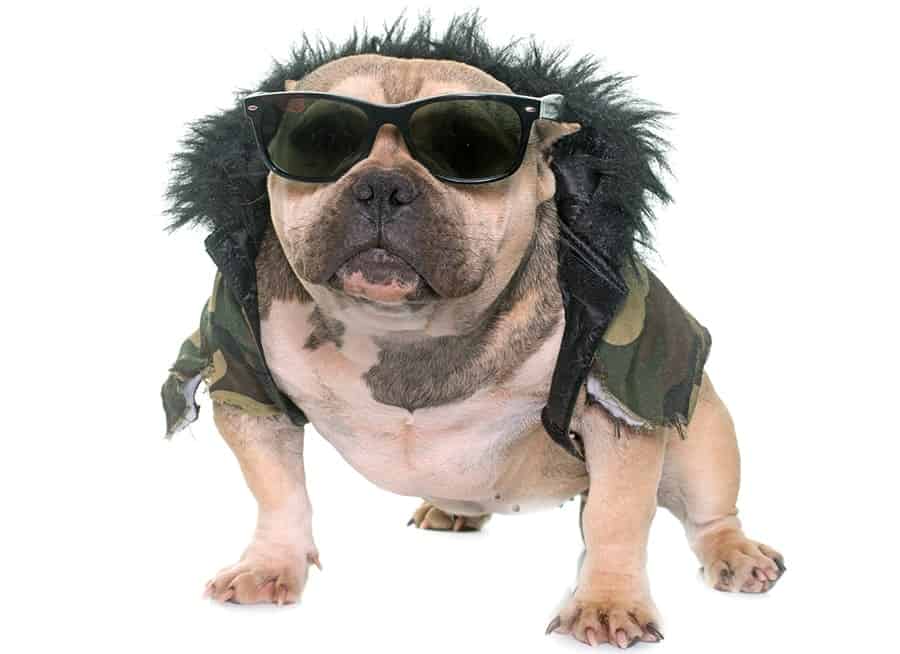 Female Rapper Dog Names
Rap fan with a female dog? If you've been struggling with finding the perfect name for your furry friend, here are some ideas for your rap-loving pup.
Aaliyah – singer, actress model who was influential in the hip-hop world
Azealia – Azealia Banks, rapper/singer from Harlem
Badu – Erykah Badu, influential singer/songwriter
Beastie – The Beastie Boys
Boo – Gangsta Boo
Brat – Da Brat
Cardi – Cardi B
Charli – Charli Baltimore
Digga / Digger – Rah Digga, member of Flipmode Squad led by Busta Rhymes
Eve – classic female rapper
Foxy – Foxy Brown, rapper & part of the group The Firm
Ghost – Ghostface Killah, member of Wu-Tang Clan
Gucci – Gucci Mane
Iggy – Iggy Azalea
Lauryn – Lauryn Hill, singer/songwriter/rapper & member of the Fugees
Missy – Missy Elliot
Nicki – Nicki Minaj
Pepper (Pepa) – Salt-N-Pepa
Queen – Queen Latifah, actress who began her career as a singer & rapper
Smalls – Notorious BIG aka Biggie Smalls
Soul – De La Soul
Sugar – The Sugarhill Gang, classic group with the hit Rapper's Delight
Yolandi – Yolandi Visser of Die Antwoord
Yo-Yo
Punny Hip Hop Dog Names
Here are some hilarious punny dog names that come from hip-hop. These are great if you're looking for something a little unusual but rap related.
50 Scent
Bark Walberg
Bone Thug
Cardi Barks
Chew Chainz
Diggy Azalea
DJ Collared
Fido Cent
Fleasy E
Kanye Westie
L.L. Drool J
Missy Smelliot
Puff Doggy
Rosa Barks
Sir Barks-A-Lot
Snarls Barkley
The Notorious D.OG
Wiska Lifa
Other Hip Hop Dog Names
These hip-hop dog names arent' from a specific rapper but rather various elements of hip-hop culture.
Hip-hop has had a tremendous impact on culture around the world. Hip hop has influenced the fashion, art, and even the language we use.
Beats – important part of the music to rap to
Benz – Mercedes-Benz
Bronx – NY location famous for hip hop pioneers
Bootleg – copy of music, live or from the radio
Buster – slang for someone who is lame
Cali – home of the West coast hip hop scene
Chopper – slang for a machine gun
Compton – CA city famous for groups like NWA
Decks – slang for turntables
Dime – attractive female, a 10
DJ – spinner of records
Dom – Dom Perignon, champagne brand
Emcee – lyricist on the mic
Feddie – term for money
Flex – term for showing off
Homie – good friend
Hook – chorus of a song
Kangol – brand associated with hip hop
Lex – short for the car brand Lexus
Mac – Mack daddy – pimp, or Mac-10 gun
OG – original gangster
Remix – alternate version of a song
Rolley – short for Rolex watch or Rolls Royce car
Scratch – DJ term for creating a noise by manipulating a record
Shorty – slang term for girlfriend
York – NYC famous for it's various hip hop pioneers
Do you have any great suggestions for other hip-hop or rapper dog names? Share them below!
Looking for more name ideas? Try out these cool dog names or our dog name search engine.
Teach Your Dog Its Name!
View Your Saved Names